Conversation
In this lesson, you will learn to describe locations of a the buildings in your city. When describing locations, we often use some prepositions of place. Listen to the conversation below, pay attention to the expressions and phrases about describing locations.
| | |
| --- | --- |
| A | What's your town like? |
| B | Well, it's quite old. There's a big square in the town centre. It's called Town Hall Square because the town hall is there. Here – I've got a postcard of the square. The Town Hall is the big building at the end of the square. |
| A | Is there a market in the square? |
| B | Yes, there is. There's a market every Wednesday. And once a year there's a French market, too. |
| A | A French market? |
| B | Yes, people from France come to the town, and you can buy French cheese and bread and things like that. |
| A | That sounds nice. What are the other buildings in the square? |
| B | Well, on one side of the square there's a big hotel – The Angel Hotel. There's a good restaurant at the hotel, and there's a club in the cellar, too. We usually go there on Saturday nights. Opposite the hotel there's a museum. |
| A | What kind of museum is it? |
| B | Oh, there are photographs and things about the town there. Next to the museum – between the museum and the town hall – there's a café. When the weather's nice, you can sit outside in front of it. |
| A | Where are the shops? |
| B | Oh, well, when you leave Town Hall Square, there's a post office on the corner next to the hotel. Then you come into Penny Street. Most of the shops are there. There are clothes shops, shoe shops, banks – the normal places. |
See the postcard the speaker mentions in the conversation.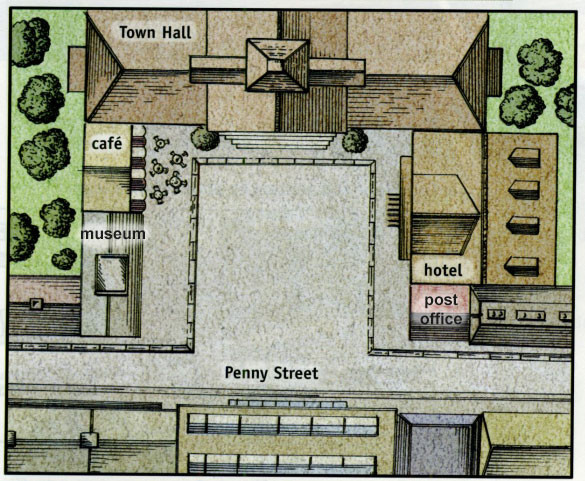 The post office is on the corner next to the hotel.
The museum is opposite the hotel.
The cafe is between the museum and the Town Hall.
Language Notes:
Useful phrases to describe locations
There's …
There's a post office next to the police station.
There're …
There're two big buildings on the corner.
It's called …
It's called the Town market.
Useful prepositions to describe the locations of buildings, parks, lakes, hospital, schools…
on the corner (of)
opposite
next to
between
at the end of
in front of
on the left/right (of)
behind
Examples
The police station is on the corner of the Main Street.
The post office is opposite the lake.
The school is next to the hospital
There's a fashion shop between two tall buildings.
There are two sport shops in front of the stadium.
On the left of the City Hall is the kindergarten.
The bus station is behind the train station.
Learn more:
Exercise
Listen to the conversation again and choose the correct answer.
[rapid_quiz question="What is the name of the square?" answer="Town Hall Square" options="Market Square|Town Hall Square" notes=""]
[rapid_quiz question="When is the market?" answer="Every Wednesday" options="Every Wednesday|Every Thursday" notes=""]
[rapid_quiz question="What happens in the square once a year?" answer="a French market" options="a music festival|a French market" notes=""]
[rapid_quiz question="What is the name of the Hotel?" answer="The Angel Hotel" options="The Lancaster Hotel|The Angel Hotel" notes=""]
[rapid_quiz question="What is the hotel cellar?" answer="a club" options="a club|a hairdresser's" notes=""]
[rapid_quiz question="Which shops does the speaker mention?" answer="clothes shops" options="book shops|clothes shops" notes=""]