Essays require more than just a memorization of facts. They require students to have an understanding of what they're talking about. They also require students to know how to express themselves clearly and concisely in writing.
Being able to communicate well is an absolute must in the real world. It's also necessary in all subject courses at university, and definitely in any professional capacity.
Essay writing is definitely a learnable skill, but not necessarily a straight forward one for a lot of students.
Because we want you to master essay writing as much as they can during their time at high school, here are 5 tips that will significantly increase your essay marks.
1. Every essay must have a proper structure
An essay must be broken into paragraphs to make it readable. It's horrible reading a full page of solid text. Breaking down an essay into different sections is what allows it to flow in a logical manner.
At high school all essays should follow a simple formula. You need to learn this formula off by heart!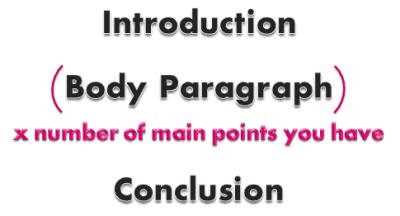 Introduction: Tell 'em what you're gonna tell 'em. Introduce the topic and briefly outline the points you're going to make in your essay in the order you're going to write about them. If the essay is meant to argue a point, you should make it clear in the introduction what their argument/point of view is.
Body Paragraphs: Tell 'em. At high school an essay will usually have 3-5 paragraphs. Each paragraph contains its own main point that contributes to the overall theme or argument of the essay. (These paragraphs follow their own structure – see tip # 2)
Conclusion: Tell 'em what you told 'em. Sum up what the essay was about.
2. Each body paragraph must have a proper structure
Not only does the essay as a whole need structure, each paragraph needs to meet certain requirements.
REMEMBER  the rule S E X I
S = Statement: This is the main point of the paragraph. What part of the film is being discussed and what did it mean to the film? What was important about an historical event and how did it affect later events? Basically, what's the point you're about to discuss in this paragraph.
E = Explanation: Explain what you said in your statement. Tell the reader why your statement is true. Why did the setting reflect how the main character was feeling? In what way did the weather affect the outcome of the battle? This part should make up the bulk of the paragraph.
X = eXample Give an example! A quote, an example, a fact. Something concrete that gives evidence to your statement.
I = Importance Why is the point you've made in this paragraph important? What does it mean to the story, or the film, or the event? Tell the reader why it matters. This one might not always be applicable, but if you can then go for it.
3. Every essay needs an essay plan
You wouldn't go on a road trip without a map and essays are just the same.
Before you start writing an essay they should make a quick plan of what they're going to write about.
An essay plan does not have to be a big thing. Not at all. It only takes a few minutes but will save you SO much time overall.
Essay plans instantly give an essay structure, they prevent you from forgetting to include any important points, and they prevent you from losing your way as you write.
An essay plan can be quickly scribbled in a margin, or the first page of an exam book that isn't marked.
Here is an example of the way I would do an essay plan before I started writing. (It's for the film The Matrix…)
INTRO
BODY
Paragraph 1:

Setting

The Matrix is set in the future… – TOPIC

S

ENTENCEFull description of the setting –

E

XPLANATIONExamples of how the setting is futuristic – E

X

AMPLES
Paragraph 2:

Costumes

The costumes in The Matrix help to portray the setting…Explain how the costumes did thisExamples of Neo's costumes in the real world & the matrixWhy costumes are important to the setting –

I

MPORTANT
Paragraph 3:

Special FX

The special effects helped create the setting in a number of ways…Explanation of the SFX used & how they helped create the settingExample – wobbly screen when transitions into the matrixWhy the SFX are important to the setting
Paragraph 4:

Lighting

The lighting effects used help show the setting is futuristic…Explanation of the lighting effects used & how they portray the settingExample of the lighting in the scene with the agentsWhy the lighting is important to the setting
CONCLUSION
Each of the three 'fingers' coming off each paragraph make up 'SEXI'. I haven't done the 'I' part, but within each paragraph I would try and emphasize why this point was important to the setting of the film.
Every time you writes an essay, whether it's just for practice or in an exam, they need to jot down the points that are going to fill their 'SEXI' for each paragraph. The detail that they list here means they don't have to worry about forgetting anything important while they're writing.
4. Revise and Edit
This depends on what situation the essay is being written in.
If it's being written for homework and you don't have the time pressure of an exam, it can be a good idea to go and do something else for a while once they've finished writing. You know when you come back to look at something you've written and you see all the little mistakes you didn't notice before? This is why.
You should check that the paragraphs are written in a logical order. Simply put – does the essay make sense? Does each paragraph follows SEXI? Get them to read their essay aloud (or in their head) so they can see how it flows (or doesn't as it may be).
If the essay is being written in an exam you won't have the luxury of time. So the number one rule here is: stay until the end! While it may seem like eternity to a high school student, exams aren't actually that long. And a few minutes of proof reading can often make the difference between one grade and another. It's worth staying right to the end.
5. Practice makes perfect
Writing essays can be practiced! Many students go through a whole year at school and only do one or two practice essays (that they were forced to do). They may know the subject backwards, but if they don't know how to write a good essay then they're screwed.
Make sure you include practice essays as part of their exam preparation. Getting a hold of past exams and using them to practice is a great idea. If you can then have a read of their work yourself that's fantastic. They might need an adult eye to pick up something that's not quite right.
Even better, get you to ask their teacher to mark it. Most teachers would love an interested student to ask them to mark a practice essay!